The serene precincts of Bageshwar Dham, nestled within the Chhatarpur district of Madhya Pradesh, stand as a testament to divine reverence and spiritual solace. This sacred abode, known far and wide, beckons seekers and devotees to experience its sanctity firsthand. Join us on a journey to uncover the enchanting facets of Bageshwar Dham Sarkar, its revered guardian Acharya Dhirendra Krishna Shastri, and the profound spiritual encounters it offers.
Bageshwar Dham
Bageshwar Dham is a temple located in the village of Gadha, Post-Ganj District, Chhatarpur, Madhya Pradesh. It is a miraculous lively place of Bhawan Mahadev and Swayambhu Shri Balaji Sarkar. The temple is believed to be a Siddha Peeth of Chandel dynasty .
Unveiling Bageshwar Dham Sarkar's Miracles
Bageshwar Dham Sarkar, a revered pilgrimage site in the heart of Chhatarpur district, is where devotees seek blessings and solutions to their troubles. At its helm is the esteemed Acharya Dhirendra Krishna Shastri, a spiritual luminary renowned for his miraculous interventions. Known colloquially as "Miraculous Baba," his divine interventions are revered not just locally, but even among international devotees who find solace in his spiritual counsel.
The Spiritual Sanctum of Bageshwar Dham
Bageshwar Dham resides in the quaint village of Gadha within the Post-Ganj District of Madhya Pradesh. This spiritual haven houses the vibrant Bhoot Bhawan Mahadev and the miraculously vibrant site of Swayambhu Shri Balaji Sarkar. With its historical roots tracing back to the Chandel dynasty, this temple is hailed as a Siddha Peeth, radiating vibrancy and spirituality.
Reverence for Swayambhu Hanuman Ji at Bageshwar Dham Sarkar
The temple, synonymous with Bageshwar Dham Sarkar, is renowned for its Swayambhu Hanuman ji, whose divinity draws countless worshippers seeking blessings. Pujya Maharaj Shri Dhirendra ji, the youthful steward of Shri Bageshwar Dham, tirelessly works to uphold the teachings of Lord Hanuman and propagate Sanatan Dharm. His efforts are inspired by the guidance of Shri Hanuman ji himself.
Embarking on a Spiritual Sojourn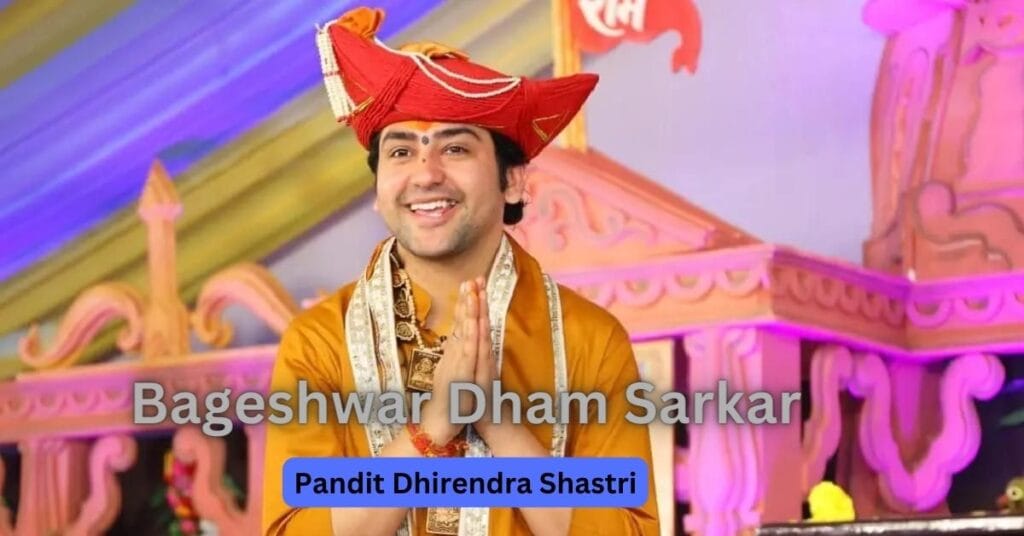 To witness the splendor of Bageshwar Dham and receive Guruji's blessings, a visit to the temple and acquiring a token are prerequisites. The divine energy of the temple, combined with Acharya Dhirendra Krishna Shastri's benevolence, creates an aura of spiritual upliftment and solace.
How to Reach Bageshwar Dham? The journey to Bageshwar Dham begins from Ganj, located on the Khajuraho Panna Road in Chhattarpur. Covering a distance of approximately 35 kilometers, the road journey leads to Gada Gaon, where the grand temple of Hanuman Balaji Maharaj Ji stands. This temple serves as a conduit for the spiritual requests and concerns of devotees, tended to by Maharaj Shri Dhirendra Krishna Ji.
Embarking on the Journey to Bageshwar Dham
By Road, Air, or Rail: Your Pathway to Divine Tranquility
Embarking on the journey to Bageshwar Dham offers multiple avenues. Travellers can opt for road, air, or rail transportation, making the spiritual sojourn accessible to all.
Reaching Bageshwar Dham by Road
For those choosing the road route, Bageshwar Dham is connected via a well-connected network of buses. Information about buses plying to Chhattarpur, Madhya Pradesh, can be obtained from local bus stands. Booking apps such as Red Bus, AbhiBus, and Goibibo facilitate the reservation of private bus tickets between Delhi and Chhatarpur.
Air Travel to Bageshwar Dham
Khajuraho Airport serves as the nearest air gateway to Bageshwar Dham. Flight reservations can be made online to this airport, streamlining the journey for air travellers. Taxis and buses are readily available at Khajuraho Airport, ensuring a seamless transition to the temple.
Railway Connectivity to Bageshwar Dham
Bageshwar Dham is well-connected by rail, with options to travel to Madhya Pradesh's capital, Bhopal, from various starting points. Trains plying between Delhi and Madhya Pradesh ease the journey for those opting for rail transportation.
Planning your journey is essential for a hassle-free experience. Here are some tips to ensure a smooth pilgrimage to Bageshwar Dham Sarkar:
For those journeying by road, Gada village in Chhatarpur district is your destination. This is where the resplendent temple of Hanuman Balaji Maharaj Ji awaits.
Seeking darshan at Bageshwar Dham requires obtaining a token, a prerequisite for entry. Tokens are distributed on specific dates by the employees of Bageshwar Dham Mandir Seva Samiti.
Reverence Beyond Boundaries: Bageshwar Dham's Global Appeal
The magnetic pull of Bageshwar Dham transcends geographical borders, drawing devotees from near and far. The aura of spirituality, the blessings of Swayambhu Hanuman ji, and the compassionate guidance of Acharya Dhirendra Krishna Shastri extend their reach even to international seekers.
Plan Your Journey to Spiritual Bliss
Bageshwar Dham Sarkar beckons, promising an enchanting journey of spiritual discovery and divine blessings. Whether you choose the road, rail, or air, the path to this sacred sanctuary is one paved with reverence and tranquility. Let the vibrations of devotion and the serenity of Bageshwar Dham envelop you in an unforgettable spiritual odyssey.
Key Highlights of Bageshwar Dham Sarkar Chhatarpur
Article Name: Embarking on a Spiritual Sojourn to Bageshwar Dham
Name of the Temple: Bageshwar Mandir Dham Sarkar
Bageshwar Dham Sarkari Temple Address: Garha, Ganj, Chhatarpur, Madhya Pradesh, India-471105
Chief Priest and Maharaj: Mr. Dhirendra Krishna Shastri
District: Chhatarpur
State: Madhya Pradesh
Mantra: Om Bageshwaraya Namah
Google Map Location: Bageshwar Dham Sarkar Mandir
Official Youtube Channel: Bageshwar Dham Sarkar Mandir
Bageshwar Dham Government Temple Dham Office Phone Number: 8120592371
Final Words: A Spiritual Sojourn Awaits
The spiritual journey to Bageshwar Dham Sarkar is more than a physical expedition—it's an exploration of the soul's connection with the divine. Whether you traverse the roads, soar the skies, or ride the rails, the destination remains the same: a sacred haven of solace, blessings, and spiritual awakening. Open your heart to the spiritual aura of Bageshwar Dham and allow its energy to transform your journey into an unforgettable odyssey.
History of Bageshwar Dham
Bageshwar Dham is a temple located in the village of Gadha, Post-Ganj District, Chhatarpur, Madhya Pradesh. It is a miraculous lively place of Bhoot Bhawan Mahadev and Swayambhu Shri Balaji Sarkar. The temple is believed to be a Siddha Peeth of Chandel dynasty .
However, I can provide you with some information about the temple. The temple is famous for the divinity of Swayambhu Hanuman ji and is also known as Bageshwar Dham Sarkar. The temple attracts many devotees who come to seek blessings from Lord Hanuman. The present youth chief of Shri Bageshwar Dham, Pujya Maharaj Shri Dhirendra ji has taken a pledge to do social service and propagation of Sanatan Dharm on the orders of Shri Hanuman ji