Planning a trip to Nainital? Discover the ultimate Nainital tour plan, how to reach this charming destination, top places to visit, and essential activities for 3, 5, and 7-day trips. Get expert tips for an unforgettable Nainital experience.
Are you ready to embark on an enchanting journey to Nainital? This comprehensive guide will help you craft the perfect Nainital tour plan, uncover the best ways to reach this picturesque town, explore the must-visit places, and curate your adventure for 3, 5, or 7 days. Whether you're a nature enthusiast, history buff, or simply seeking a peaceful getaway, Nainital has something special for everyone.
About Nainital
Nainital, nestled in the heart of Uttarakhand, India, is a haven for nature lovers and adventure seekers alike. With its pristine lakes, lush forests, and panoramic views of the Himalayas, Nainital offers an idyllic escape from the hustle and bustle of city life. In this guide, we'll provide you with a step-by-step Nainital tour plan, tips on how to reach this gem, and insights into the best places to visit. So, let's embark on this journey of discovery.
Best Nainital Tour Plan
Day 1: Nainital Arrival and Local Exploration
As you arrive in Nainital, your adventure begins with a leisurely stroll around Naini Lake. This pristine lake, with its emerald waters, is the heart of Nainital and offers a tranquil atmosphere. Take in the cool breeze that rustles through the surrounding trees and savor the captivating scenery. It's an ideal way to unwind and connect with nature right from the start.
In the evening, head to the bustling Mall Road. This iconic street is a hub of activity in Nainital, offering a delightful blend of shopping, dining, and local culture. Explore the various shops showcasing handicrafts, woollens, and souvenirs. And don't forget to treat your taste buds to local delicacies at the lakeside restaurants, where you can relish Kumaoni dishes and savor the flavors of this charming town.
Day 2: Nainital Lake District Exploration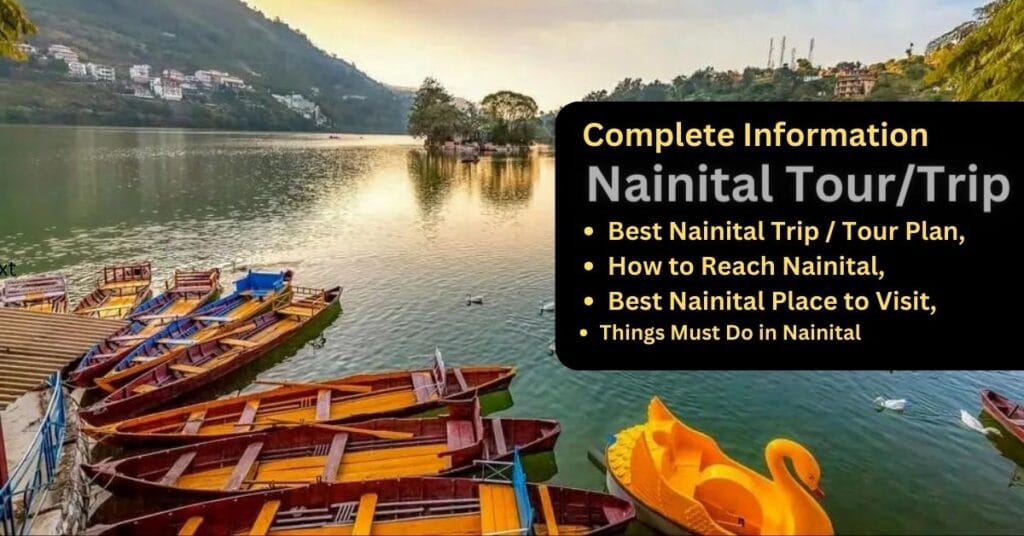 On your second day, it's time to venture beyond Naini Lake and explore the enchanting lakes in the vicinity. Bhimtal, Sattal, and Naukuchiatal await your discovery. These lesser-known gems each have their unique charm and offer a different experience.
Bhimtal, nestled amidst lush greenery, is a serene lake where you can enjoy boating and soak in the peaceful ambiance. Sattal, a cluster of seven interconnected lakes, is a paradise for birdwatchers and nature enthusiasts. Take a leisurely walk around the lakeshores, listening to the melodious songs of the resident and migratory birds. Naukuchiatal, known for its nine-cornered lake, is perfect for a picnic by the water, surrounded by the tranquillity of the forest.
Day 3: Nature's Abode in Nainital
Day 3 is dedicated to exploring Nainital's natural beauty and spiritual heritage. Start by visiting the Naina Devi Temple, situated atop a hill. The temple not only holds great religious significance but also offers breathtaking panoramic views of Nainital town and the surrounding hills. The serene atmosphere and lush surroundings make it a place for quiet reflection and admiration of the natural beauty.
In the afternoon, take a thrilling cable car ride to Snow View Point. This vantage point provides unobstructed vistas of the snow-capped Himalayan peaks, including the majestic Nanda Devi and Nanda Kot. It's a visual treat that will leave you in awe of nature's grandeur.
As the day winds down, head to the eco cave gardens for an adventurous experience. These interconnected caves, nestled in the midst of lush greenery, offer an opportunity to explore the fascinating rock formations and learn about the region's geological history. It's a perfect blend of adventure and education.
Day 4 and Day 5: Extended Stay Option (5 Days)
If you choose to extend your stay to five days, consider a visit to Mukteshwar, a charming destination just a 2-hour drive from Nainital. Mukteshwar is famous for its fruit orchards and serene landscapes. The lush orchards, laden with apples and apricots, are a visual delight. You can also explore the quaint village, meet the friendly locals, and immerse yourself in the peaceful surroundings.
While in Mukteshwar, make sure to visit Chauli Ki Jali, a scenic ridge that offers stunning views of the valley below. It's an ideal spot for nature enthusiasts and photographers. Additionally, the Methodist Church in Mukteshwar is a historical gem worth exploring.
Day 6 and Day 7: Extended Stay Option (7 Days)
For an even more extended and immersive experience, embark on a journey to Ranikhet. This enchanting hill station is a few hours' drive from Nainital. Ranikhet is known for its lush green meadows, pristine landscapes, and a rich military history.
Visit the Kumaon Regimental Centre Museum to learn about the region's military heritage and the brave soldiers who have served here. Don't miss the beautiful Jhula Devi Temple, known for its bells that devotees tie as a mark of their wishes.
On your final day in Ranikhet, you can choose to relax amidst the serene surroundings or go for a trek to Chaubatia Gardens. These gardens are famous for their neatly maintained orchards and offer a delightful end to your 7-day Nainital adventure.
This detailed Nainital tour plan ensures that you experience the best of this picturesque destination, whether you have 3, 5, or 7 days to spare. Enjoy the beauty, culture, and adventures that Nainital has to offer, and create cherished memories that will stay with you forever.
By Air – Pantnagar Airport
Pantnagar Airport is the nearest airport, approximately 70 km from Nainital. From there, you can hire a taxi or take a bus to reach Nainital.
By Train – Kathgodam Railway Station
Kathgodam Railway Station, about 34 km away, is the closest railhead to Nainital. Several trains connect Kathgodam to major cities in India.
Nainital trip By Road
Nainital is well-connected by road to major cities like Delhi, Dehradun, and Lucknow. You can opt for a scenic road trip or book a comfortable bus ride.
1. Naina Devi Temple Nainital
Situated on the northern shore of Naini Lake, this sacred temple is a must-visit for its spiritual significance and stunning views.
2. Snow View Point – Nainital
Take a cable car to reach this viewpoint and relish panoramic vistas of the Himalayas, including Nanda Devi and Nanda Kot.
3. The Mall Road – – Nainital
Explore this bustling street for shopping, dining, and experiencing the local culture. Don't forget to try hot momos and local sweets.
Perfect for families, these interconnected caves offer an educational and adventurous experience with a touch of natural beauty.
5. Bhimtal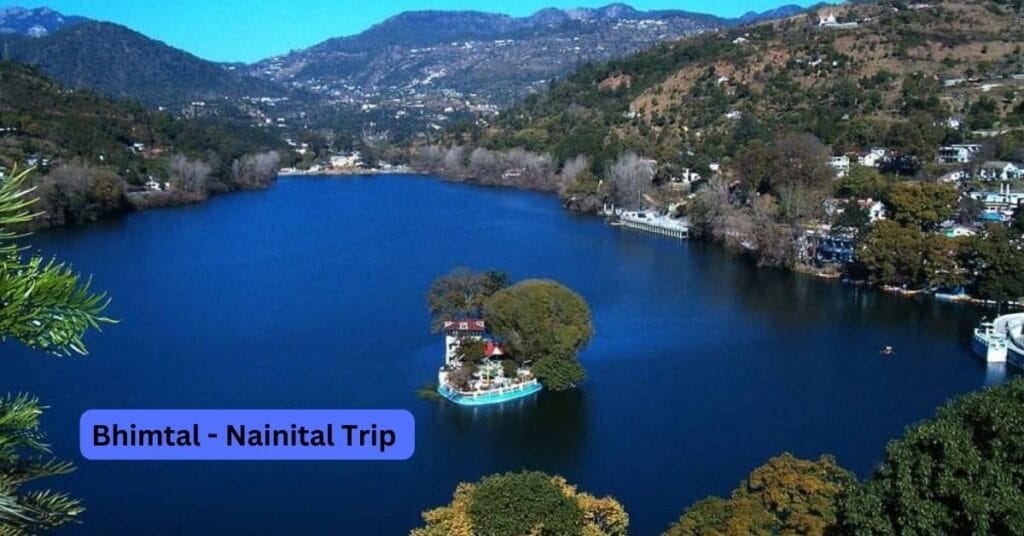 Visit Bhimtal Lake for boating and enjoy the serene atmosphere of this lesser-explored gem.
6. Sattal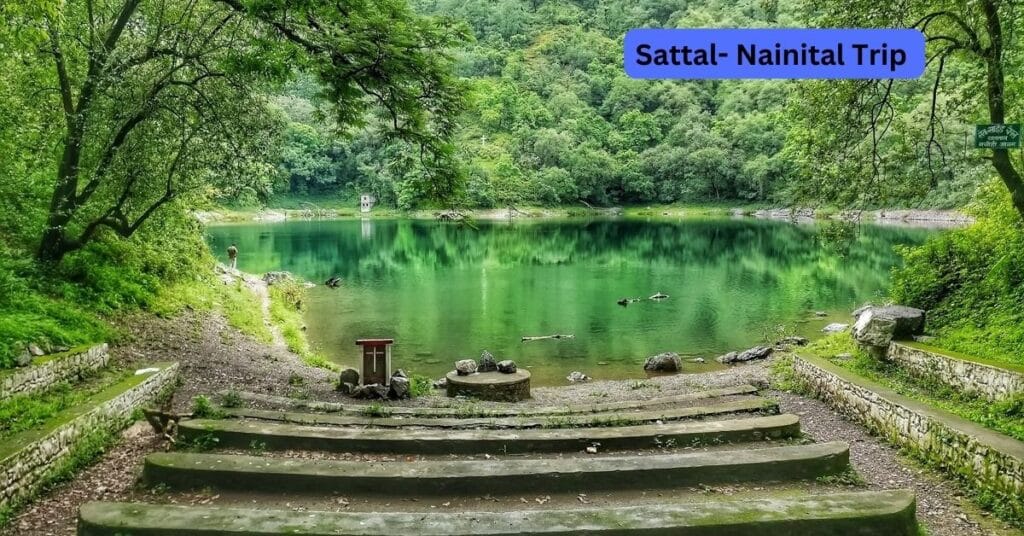 Discover the interconnected cluster of seven lakes in Sattal and indulge in birdwatching and nature walks.
Things You Must Do in Nainital
We include few things you must include Nainital Tour Plan or Nainital Trip Plan
Embrace Adventure
Engage in thrilling activities like paragliding, trekking, and horse riding for an adrenaline rush.
Taste Local Cuisine
Savor Kumaoni dishes like Aloo Ke Gutke and Bhatt Ki Churdkani at local eateries.
Stroll Along the Lakes
Whether it's Naini Lake or nearby gems, leisurely walks by the water are a must to soak in the beauty.
Shop for Souvenirs
Pick up handmade candles, woollens, and handicrafts as souvenirs on Mall Road.
Witness Sunrise and Sunset
Don't miss the mesmerizing views of the sun rising and setting over the Himalayan peaks.
FAQs – Nainital Tour
A: The best time to visit Nainital is during the summer months from March to June and the autumn season from September to November when the weather is pleasant.
A: Yes, Nainital transforms into a winter wonderland from December to February, making it ideal for those who enjoy snowfall and cold weather.
Q: Are there adventure sports available in Nainital?
A: Absolutely! You can enjoy paragliding, trekking, and boating, among other adventure activities.
A: It's advisable to book your accommodation in advance, especially during the peak tourist season, to ensure a comfortable stay.
Q: Can I find vegetarian food options in Nainital?
A: Yes, Nainital offers a variety of vegetarian dishes, and you'll find vegetarian-friendly restaurants throughout the town.
Q: Are there any cultural events or festivals in Nainital?
A: Nainital hosts various cultural events and festivals throughout the year, with Nanda Devi Festival being one of the most prominent.
Conclusion
Nainital, with its captivating beauty and serene ambiance, promises an unforgettable experience for every traveler. Whether you're planning a quick 3-day getaway or a leisurely 7-day retreat, this destination has something remarkable in store for you. So pack your bags, follow our Nainital tour plan, and get ready to create cherished memories in this paradise.