Here we discuss about what is YouTube Handle, How to create or setup YouTube Handle, Who is Eligible for YouTube Handel, Advantages & Disadvantages.
YouTube has just thought of giving a Personalized / Unique Handle to all YouTube channels to increase Engagement on YouTube (Find & Search the Channel, Tag or Mention a user and Easy Connect). Now all the YouTube creators can easily set the name of their channel, custom URL, so that their Subscribers / Viewers can easily reach the homepage of that channel (Search), there is no problem in tagging it. And if another channel is made with a similar name, then it should be known which the real channels are and which are fake or copy channels.
What is YouTube handle?
Google starts a new key feature for YouTube channels: YouTube account handles. Like Twitter and other social media platform Google is introduce a unique "@name" handle for user. It will appear in your address bar its make easy search & find a YouTube Channels. At MyFundas today I will tell you all about YouTube Handle. https://www.YouTube.com/handle
How to create YouTube Handle of your YouTube Channel
There are following the steps given below:-
First of all you have to login to your channel
Now you have to click on this link Link: – Create your Channel Handle
As you can see in the image:-
Now you will get an option Choose Handle, you have to select it
As you can see in the image:-
If you want to change your channel handle then you have to select the option of Change Handle.
As you can see in the image:-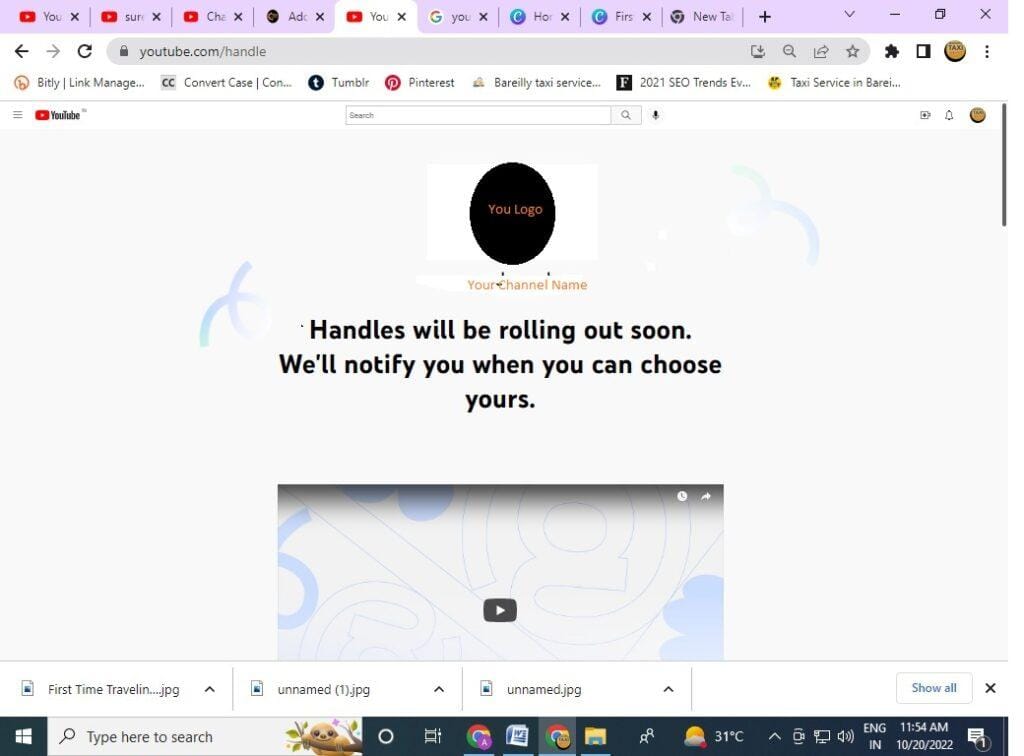 Dear YouTube, if you go to https://www.YouTube.com/handle and there you do not get the option of Choose Handle, then you have to wait a bit and then you will get an email through YouTube in which you will be asked to set up your handle, or in your YouTube studio you will get the option to select the handle. Till then you will have to wait and then you can set the handle of your YouTube Channel as soon as that option comes.
What is the Maximum Length of YouTube Handle:-
The maximum length to create a handle in YouTube is 30 characters.
YouTube Handel Will Become Your Channel URL Example:-
If you select your Handel then your YouTube Handel will also become the URL of your Channel like:-
1.) If your YouTube Handel @Example then the URL of your YouTube Channel will be :- YouTube.Com/@Example
2.) Like my YouTube Handel is @myfundas then the URL of my YouTube Channel will be :- https://www.YouTube.com/@myfundas
Who is Eligible for YouTube Handel ? Who can create YouTube Handel? ,
Friends, before today the condition of creating a YouTube Handle was that you should have at least 100 Subscribers, but now YouTube has removed this condition and now anyone can easily create a Handel of their YouTube channel.
Tips For Selecting
Note: – To keep the handle unique, YouTube suggests you to put some numbers, but avoid adding your numbers, if there is some short and meaningful word, then only enter it or enter a number that has some value for you are because you have to promote your handle later.
It will going to be the identity of your YOUTUBE channel.
(Tip: – Make some handle which is small and people remember quickly) (Friends, make your YouTube handle as soon as possible before someone else makes your favorite handle)
Advantages and Disadvantages of YouTube Handle:-
Benefits of YouTube Handle:-
1.) You get a unique name (Handle) of your channel which is very useful.
2.) With the YouTube Handle, you can easily be found on YouTube and search engines (Google, Bing, Etc).
3.) With YouTube Handel, you can Mention / Tag any YouTube Channel easily.
3.) Communication / Engagement will increase with YouTube handle, due to which views will also increase.
Disadvantages of YouTube Handle:-
1.) By the way, no harm of YouTube Handle has been seen yet, but if you delay in selecting the handle of your YouTube channel and by then someone takes your favorite handle then you will have Lifetime loss because you will again Can never take that handle. So hurry up and make your YouTube @Handle right now.